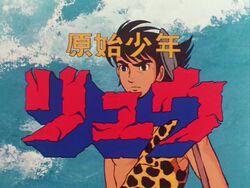 Genshi Shonen Ryu, or Ryu, the cave boy (原始少年リュウ Genshi shōnen Ryū) is the animated adaptation of Ryu no Michi that was produced by Toei Animation, it was broadcasted between 1971 to 1972 and consisted a total of 22 episodes. Shotaro Ishinomori was not satisfied with the omission of the science-fiction elements in the anime and later created his own manga adaptation of the story.
Description
Edit
Set in primitive times, a baby with white skin is born into the world. As his skin color is different from the rest of the children around him, the baby is immediately disliked and alienated from the others. Deserted and left on his own, the baby is eventually picked up by an ape called Kitty and raised him as her child. The baby, Ryu, grows up to be a good man but at this moment, his adoptive mother is attacked and killed by the infamous dinosaur, Tyranno. In order to defeat Tyranno and also find his real mother, Ryu decides to set off on his own journey. In the midst of his travels, he meets the siblings Ran and Don. With his new-found companions, Ryu begins his battle against hardships and obstacles.
Opening theme
Edit
"Genshi Shonen Ryu ga Iku" (原始少年リュウが行く)

Lyrics: Shotaro Ishinomori
Composer: Jun Oshio
Vocals: Ichiro Mizuki
Ending theme
Edit
"Ran no Uta" (ランのうた)

Lyrics: Shotaro Ishinomori
Composer: Jun Oshio
Vocals: Mitsuko Horie
Community content is available under
CC-BY-SA
unless otherwise noted.