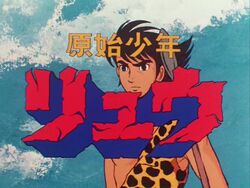 Genshi Shonen Ryu, or Ryu, the cave boy (原始少年リュウ Genshi shōnen Ryū) is the animated adaptation of Ryu no Michi that was produced by Toei Animation, it was broadcasted between 1971 to 1972 and consisted a total of 22 episodes. Shotaro Ishinomori was not satisfied with the omission of the science-fiction elements in the anime and later created his own manga adaptation of the story.
Set in primitive times, a baby with white skin is born into the world. As his skin color is different from the rest of the children around him, the baby is immediately disliked and alienated from the others. Deserted and left on his own, the baby is eventually picked up by an ape called Kitty and raised him as her child. The baby, Ryu, grows up to be a good man but at this moment, his adoptive mother is attacked and killed by the infamous dinosaur, Tyranno. In order to defeat Tyranno and also find his real mother, Ryu decides to set off on his own journey. In the midst of his travels, he meets the siblings Ran and Don. With his new-found companions, Ryu begins his battle against hardships and obstacles.
Ep#
Title card
Title
Airdate
1
"Primitive Law"
October 30, 1971
Time is primitive. Baby Ryu, sacrificed to the dinosaur Tyranno, was rescued by a female ape, Kitty, and was raised as her child. Several years later, Ryu, who has grown into a young boy, meets Ran, a girl from the Otsuno tribe. Ryu heads for the Otsuno's territory to collect herbs to treat Kitty's injuries, but the people of the clan are hostile towards Ryu. Tyranno appears again there. Ran saves Ryu in a difficult situation...
2
"Terror of the Tyranno"
November 6, 1971
Kitty is killed by Tyranno, but Ryu discovers that his real mother is still alive somewhere. He travels with Ran to search for his mother, aiming for a village where her younger brother, Don, is. However, the place where they arrived was also destroyed by Tyranno. Ryu takes a cold attitude when he finds a dying old woman.
3
"Taka's Revenge"
November 13, 1971
Ryu is separated from Ran because of the Sumekari tribe. Ryu found a place where Ran is being held, but Sumekari's powerful warrior, Taka, wants Ran to be his woman. Moreover, he harbors deep hatred towards Ryu for some reason. However, the elder acknowledges Ryu's courage for singlehandedly fought against the Devilhorn and proposes to join him.
4
"Pursuit full of Wounds"
November 20, 1971
Ryu and Ran run away from Taka while gasping in the sunshine. The two meet a man named Kiba in the mountains. He also said that Tyranno had wiped out his tribe, including his son Kumao and his wife, Onami. Kiba, who succeeded in stabbing Tyranno's right eye two years ago, was hiding in this mountain where Tyranno was, in order to defeat his nemesis.
5
"The Yamaneko Tribe's Conspiracy"
November 27, 1971
Ryu and Ran hid themselves in a ravine to escape Taka. Meanwhile, Taka meets an old man while out hunting and conspires with him to catch Ryu. Elsewhere, Ran and Ryu fall unconscious due to exhaustion, but were saved by Toko, a little girl from the Yamaneko tribe. The head of the tribe, Toko's father, turns out to be the old man Taka had met.
6
"Fight for the Hunting Grounds"
December 4, 1971
The Kasta tribe saves Ryu and Ran who were attacked by a carnivorous plant in a dense forest. The Kasta were chased away by the Warugi tribe and fled to the cave. In order to recapture their hunting grounds, the Kasta's chieftain, Milos, decides to engage in war with the Warugi. Meanwhile, the Warugi tribe feeds the lost Taka and adds him to their forces. At the hunting ground that crosses the hill of sunrise, both tribes finally collide.
7
"A Blood-stained Hero"
December 11, 1971
TBA
8
"Fated Encounter"
December 18, 1971
TBA
9
"Devil Stone"
December 25, 1971
Ryu and his friends arrive to the cold region and found an injured man, Amra. His younger brother, Goro, holds the burning "stone of God" and seizes the heart of the Alara tribe. It is said that he dragged Amra from the position of the chieftain and appointed his wife, Messa, to be the new chieftain. When Ryu heard that Messa imprisoned his son Ben, he doubts about "mother's love."
10
"Giant in the Blizzard"
January 1, 1972
TBA
Chłopiec z Parku Jurajskiego (Polish)
Huledrengen Rai (Danish)
Jaskiniowy chłopiec (Polish)
Nolan, enfant des cavernes (French)
Rai (Polish)
Rai Grottpojken (Swedish)
Rai-luolapoika
Ryu the Primitive Boy
Rai, a dzsungel fia
Ryu, il ragazzo delle caverne (Italian)
원시소년 류우 (Korean)
Tao, el cavernícola (Spanish)
ڕیو، کوڕی ئەشکەوت (Kurdish)
"Genshi Shonen Ryu ga Iku" (原始少年リュウが行く)

Lyrics: Shotaro Ishinomori
Composer: Jun Oshio
Vocals: Ichiro Mizuki
"Ran no Uta" (ランのうた)

Lyrics: Shotaro Ishinomori
Composer: Jun Oshio
Vocals: Mitsuko Horie
Community content is available under
CC-BY-SA
unless otherwise noted.